The Harvard Club of Broward County


Is Pleased to Share



Turning Biology in Billions.

Twice.




A

Cornell Entrepreneur Network and Entrepreneurship at Cornell production
Thursday, April 8, 2021
1:00 PM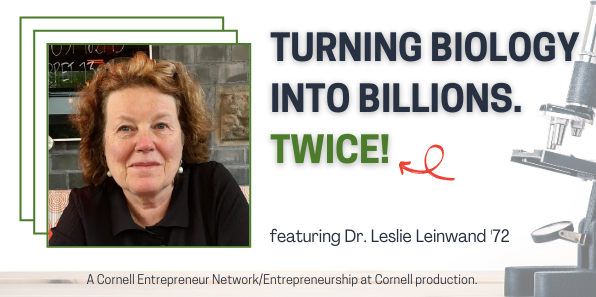 From Cornell to Colorado to Cofounder to Chief Scientific Officer, Dr. Leslie Leinwand '72 has a fascinating story that she'll share with us LIVE on April 8th. Hear how this molecular, cellular, and developmental biologist founded multiple companies, two of which went public and were then acquired for billions (yea, with a "B") and more! She has mastered the intersection of biology, entrepreneurship and academia. And as a cardiovascular expert, Dr. Leinwand's advice and secrets will definitely get your heart racing! Register now to save your seat and submit questions in advance.
Serial Entrepreneur,
Dr. Leslie Leinwand '72 LIVE
This is a FREE event, but registration is required.

REGISTER & SUBMIT YOUR QUESTIONS HERE
(all registrations completed through the Cornell Club)