The Harvard Club of Broward County
in conjunction with
Harvard Business School Club of GCC
Invites you to attend

A Conversation with Stéphane Bancel, CEO of Moderna
A Zoom Webinar
What Moderna's CEO foresees for the future of its COVID-19 vaccine and beyond.

The Harvard Business School Club has invited us to an up-to-the-moment presentation by Stéphane Bancel, chief executive officer of Moderna, the biotechnology company that has been involved in the discovery and development of messenger RNA therapeutics and vaccines. Building on the science behind its succe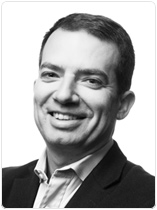 ssful COVID-19 vaccine, the company is continuing its development of mRNA medicines for infectious, immuno-oncology, and cardiovascular diseases.

A 2000 MBA graduate of Harvard Business School, Bancel holds a ME from École Centrale Paris (ECP), and a MS in chemical engineering from the University of Minnesota. He has been CEO of Moderna since 2011, having previously served in various roles at Eli Lilly and Company.

In 2010, ModeRNA Therapeutics was formed to commercialize the research of stem cell biologist Derrick Rossi. Rossi had developed a method of modifying mRNA by first transfecting it into human cells, then dedifferentiating it into stem cells which could then be further redifferentiated into desired target cell types. Rossi approached fellow Harvard University faculty member Tim Springer, who solicited co-investment from Kenneth Chien, Bob Langer, and the venture capital firm Flagship Ventures. Bancel is currently also a venture partner at Flagship.
Wednesday, January 20, 2021
8:00 AM
(Zoom information will be sent in advance)
This is a FREE Event
- ALL registrations completed through the HBS Club of GCC website